I'm doing a round 2 of last year's 52 weeks of cupcakes. I love cupcakes and the options that come with them in cake combinations, fillings and frostings. Also I've been watching Food Network's Cupcake Wars on Amazon Prime and it's made me miss experimenting with cupcakes. So I have 2 goals for this project.
1. Make a different cupcake every week for 52 weeks.
2. Try recipes off my
Cupcake Pinterest Board
that have intrigued me but have never been made.
So the first week cupcake is:
Chocolate Banana Cupcakes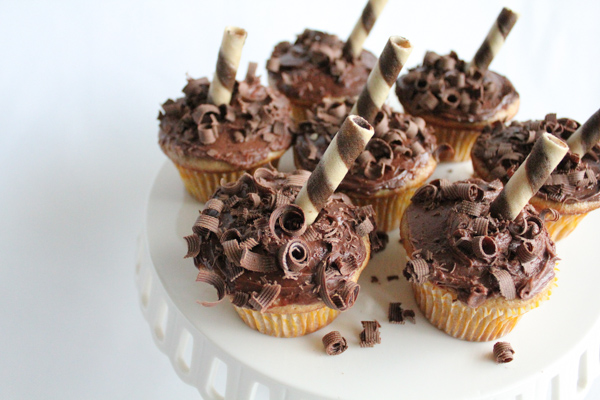 1.
Source:
Hip Foodie Mom
- a blog that I've never used before but definitely will again. This is a recipe she got from one of the Hummingbird Bakery cookbooks which is on my list of books to buy.
2.
Ease of Recipe
(1 being cake mix/canned icing - 5 tons of steps and very time consuming): Probably a 2.5 or a 3. The cake went together very easily but the icing was a little trickier though still not difficult.
3.
Changes Made
: Only difference was I used heavy cream instead of milk in the frosting. Used Hershey's Special Dark cocoa instead of regular.
4.
Problems:
The only problem was the frosting was very stiff and I ended up having to use an extra tablespoon or so of cream. This could have been because the cream was thicker than the milk would have been but I've made this substitution before and not had this problem. Also the cake was a little crumbly when still a touch warm. Definitely will have to let them cool completely next time to avoid broken edges.
5.
Overall Impression:
The cake is wonderful - not too dense but very moist. The smell of it cooking made my mouth water. I was worried the ginger would be overwhelming but it definitely wasn't. The icing was very good. The frosting was nice and fudge-y. A good compliment of flavors.
6.
Quantity:
Recipe said 12 but I probably had enough batter for 14 or so. I only made 12.
7.
Make Again?
: Yes definitely though only if I had people to share them with as not everyone here would eat them.