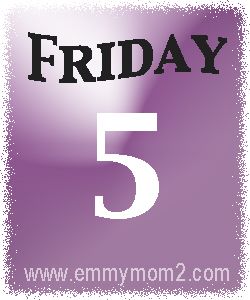 It's Friday Five! I'm participating in a linkup hosted by
EmmyMom
and cohosted this week by
Jaime from Love, Jaime
. Pictures are not my strong suit so there's one old one that I rediscovered this week but otherwise here's my 5 Thoughts and 5 Pictures
1. I'm finally joining this decade and upgrading to a smart phone! J upgraded last year, Eleanor got one for graduation, Emma bought hers when she got her job and Ringo got one for his birthday but I always came up with a reason to put off buying one. I finally bit the bullet yesterday and ordered an iPhone 5s which should be here today. Now that I've gotten over feeling ill about spending all that money I can't wait!
2. I'm thinking Ringo is going to have a name change. When I first started thinking about blogging Ringo really fit him but he's grown up a bit so he's going to have a Beatles upgrade and become Paul. That seems to fit him a bit better.
3. I have to brag on
Ipsy's
customer service. It's one of the 3 subscriptions I get regularly and I always love it. Normally I get it 3 days from the day I get my shipping notice but this month I didn't. The USPS and the DHL tracking didn't match up and nothing happened for days. Finally this Monday I emailed Ipsy just to get the ball rolling on either a replacement or a new bag expecting to get told to give a few more days since it was only 6 days late. Instead I got a reply on Tuesday that they were shipping out my new bag and then the shipping notice on Wednesday. No questions, no discussions, just a sorry here's another one. I now feel even better about recommending Ipsy to friends!
4. Speaking of subscriptions I ordered a 3 month subscription to MyIreland a box full of (obviously) Irish stuff ranging from bath stuff, home decor, jewelry, gift items or just about anything else. I cannot wait!
5. After last weekend and early this week being in the 50s/60s were back in the 30s. I'm NOT loving this. I'm okay with 50s because I can wear my sweaters and blazers but there's nothing I can do with temperatures in the 30s except be cold.
Did I mention he's obsessed with Star Wars lately?
This is why you don't go to the grocery store hungry
So in love with this coat I can't even describe it. Yay thrifting!
This is actually a picture of Emma from last year before homecoming but I just rediscovered it when I was looking for frameable pics.