August has been a big month in our house. Eleanor moved about an hour away to start college and the Tornado started a 2 day/week preschool. The other 2 went back to school to but its the same place so less changes for them other than they're both loaded up with AP classes. All transitions have gone stunningly well and I am really beginning to enjoy the 7 hours a week I have to myself. The weather has been crazy too. I went to Ringo's first game in a sweater and jacket but went to the park the next week in a tshirt and shorts and was still hot. So my favorites for this crazy month are:
Favorite Pin: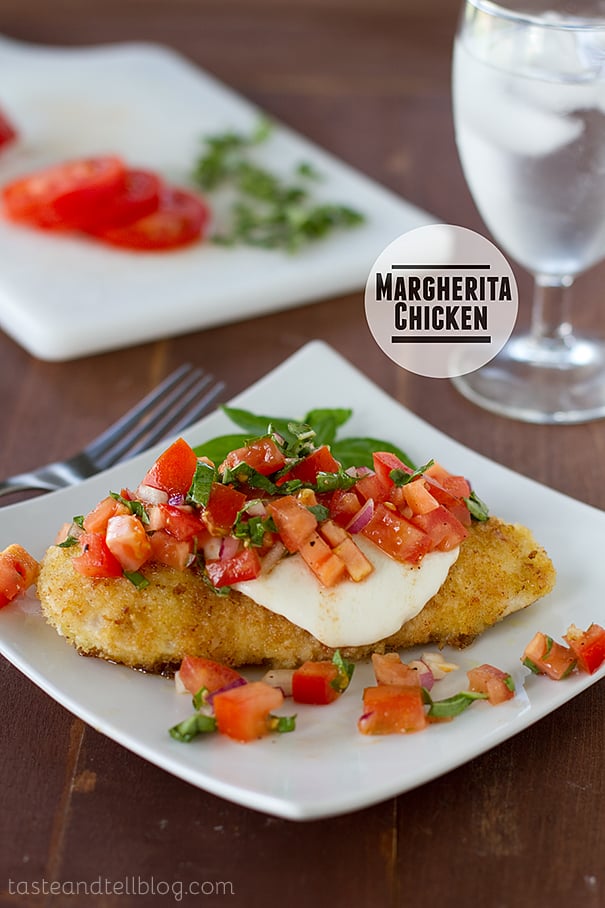 Margherita Chicken from Taste and Tell
So good reasonably quick and easy. Plus it looked beautiful on a plate. Definitely company-worthy. Another plus is that I used tomatoes and basil out of my garden. Served it with an herbed pasta but next time I think I'm going to make it with mashed potatoes. This is definitely going on the make again list and will probably make a reappearance next week.
2nd Place
It's a tie between these
Brown Butter Chocolate Chip Cookies from the Recipe Critic
which were astonishingly good and easy
Favorite Beauty Product:
e.l.f. Studio Makeup Lock and Seal
. I picked this up for a whopping $3 at Target on a whim and have been so impressed with it. The box comes with a small brush, a tiny plastic cup and a bottle that looks like eye drops. You put maybe two drops in the cup and lightly brush it on after you've put your makeup on. This stuff WORKS. I can rub my eyes hours after I put my eye shadow on and it still stays put. It's mildly tacky immediately after brushing on and if you use to much of the fluid it will dilute the eye shadow but once I got the hang of it this has been a miracle product. I can use this with drug store eye shadows to have them last as well if not better than high end shadows.
Binge Watching:
I remember when this was on but never really watched it even though I love detective shows. I thought it was a bit too gimmicky when Monk's phobias and it just never really grabbed me. However, thanks to Netflix I'm almost done with season 4 (we won't even say how long it took me to get there. Not nearly as long as it should've) and I've been loving it. They've done a wonderful job with the character development across the board and you feel attached to them without it being too much about their personal life.
Also:
TLC's What Not to Wear
I watched this ages ago when it was first on but got kind of bored with it. Since this is its last season I've been catching up on some reruns and watching the new ones and thoroughly enjoying them.
CBS's Unforgettable
I loved this show when it was on last year and was so disappointed when they cancelled it. I was really happy when they revived it for a summer season and for once I think the changes they made to improve ratings actually improved the show. I'm hoping CBS keeps it on as a summer season show or at sells it to TNT or one of the other cable networks that I read were interested.
Favorite Thrift Store Purchase:
I've had a pretty good month even though I had a huge break in between shopping trips. The 2 favorites that come immediately to mind are the tweed Jones New York Country Essentials blazer I picked up for less than $2 or the Ann Taylor Loft t-shirt with a sketch of 2 Audrey Hepburn type girls complete with frilly tutu and some sequins. I think that may have been an expensive $4. I'm also loving a pair of $2 green J.Crew shorts. They're super casual but I think will be great for playgrounds and garden working.
For September I'm hoping to get more crafts in and maybe some outfit photos. Maybe I'll have actually joined this century with a smart phone by this point.