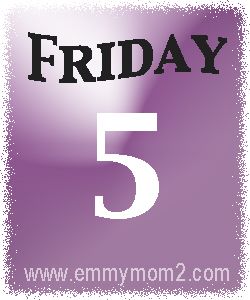 Friday 5 is a weekly linkup with
Emmy Mom
. It's a fun way to end your week - 5 facts and 5 pictures from the last 7 days. This week's co-host is
Mary from a Mighty Tower
.
1. As I look outside at the drizzling rain this morning I'm very very afraid that Emma's scheduled driver's test is going to be cancelled. It's not the end of the world but I know she's going to be disappointed and I was hoping her getting her license would end the days I have to be in 2 places at once.
2. I'm trying to clean up my blog list in Feedly. I'm following to many and starting to miss the ones that I really enjoy because I have so much to get through. The problem is when I click on one to remove it I see a bunch of interesting looking posts and think - Oh I can't possibly delete this one. It's a problem.
3. The Tornado has been in full tornado mode lately. I don't know if it's the fact that the weather's finally nice enough to go outside or what but he's been a super silly boy lately. Yesterday he announced that since we didn't have to go anywhere at all he wanted to watch Clone Wars all day. I thought an entire day spent lying around and reading sounded nice so I agreed to it. It lasted a few hours and then he had a meltdown because he needed to do something. He and J are so much a like sometimes it's scary.
4. The tulips are in bloom! I love this time of year! Apparently the first fall the house was here the original's owner planted over 250 daffodil and tulip bulbs and a housewarming gift and they're still showing up.
5. I'm still loving Dancing with the Stars! Ice skater Charlie is just adorable and I love Danica McKeller. I always seem to root for the guys in the show though I'm somewhat confused by Cody Simpson. They've said he's a pop star but they spend more time talking about the number of twitter followers than anything else. This week was the most important year dance and I always get a little teary eyed during the stories. I'm a sympathetic cryer. In general I don't really cry but if someone else starts crying I start. It's annoying. So I'd gotten teary eyed and then Amy Purdy told her story and I was openly weeping. I've been impressed with her since the beginning of the season but the whole story of how she lost both her legs and persevered was so emotional.
Got myIreland box yesterday! It's amazing! So love this subscription.
Playing outside in the sun