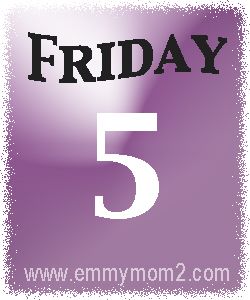 It's time for the Friday 5 linkup with
Emmy Mom
. This is a fun way to end the week with 5 facts and 5 pictures.
1. This week was Emma's birthday. It's hard to believe she's 17. Her driver's test ended up having to get rescheduled much to both our dismays due to weather but we've rescheduled so hopefully she'll be a licensed driver in not too much longer.
2. Found a condo at the beach for a week this summer and am so excited to be getting out of town for a bit. We stayed at this place last summer and really enjoyed it. A large chunk of my family will be there at the same time so it'll be fun to catch up with everyone.
3. The Tornado has become obsessed with Bob the Builder lately. He's very phase-y which is one of the very few things he inherited from me. We went through a Jake and the Never Land Pirates phase, a Little Einstein phase, Daniel Tiger, Thomas the Tank and now Bob. Star Wars seems to be sticking around so a lot of his games end up being a hybrid of Bob and Star Wars. It makes for some interesting ideas.
4. I'm at the point where I think it'd be best just to go on and eat all the Easter candy in the house and be done with it. I've been awful lately with wandering by and picking up a Reese's or Cadbury egg. Normally I'm not a big snacker but they're just so good.
5. Paul had to be at work at 4AM last weekend to open. He then had to work basically a 10 hour shift and had a soccer game almost immediately after. He did great but just about collapsed when he got home.
We've been decorating for Easter which meant I had to put some of my regular stuff up. These 3 normally aren't together (the 2 little ones are salt and pepper shakers). I put them on the bottom shelf of a glass fronted cabinet right above the coffee maker so if you look up all 3 are staring at you. The reaction from the kids is pretty entertaining.
This was part of one of the photo a day instagram challenges. The challenge was a picture of a picture and this was mine. It's one of my favorite pictures of my grandparents from early in their relationship. My grandmother's the one with dark shoes and my grandfather is behind her.
Much to J's horror and my delight I put the Tornado in layers the other day. I thought the outfit was adorable. They weren't so sure of it.
Emma opening presents
Another tulip picture because one can never have to many tulip pictures.