This week was a dismal failure when it came to cooking. I made a cupcake recipe from Barefoot Contessa, a dip and a pasta bake and that was it. It's been a crazy week and one of those weeks where I really didn't get much accomplished (other than a great visit to a thrift store and a consignment store) but I feel completely and totally frazzled.
Chef of the Month:
This month I'm spending some time (well my goal is to atleast) with Ina Garten aka the Barefoot Contessa. I'm quite sure most of my ingredients will not qualify as "good" in her opinion but I will soldier through. This month I'll be using 7 of her cookbooks:
Barefoot Contessa Family Style
,
How Easy Is That?
,
Back to Basics
,
Barefoot in Paris
,
At Home
,
The Barefoot Contessa Cookbook
, and
Foolproof
. Flipping through them I've been pretty impressed with the scope of her books. With Bobby Flay and Giada they seemed to have areas they specialized in and in other categories would only have a few recipes. Flay flat out said that he was not a pastry chef and while he liked desserts, baking was not his thing. Giada was definitely low on breads, breakfast stuff, and sides. Ina, however, has a very well rounded repertoire of recipes. She has lots of main dishes ranging from formal entrees to lunch type food, breakfast dishes, sides, breads and tons of desserts. It's probably possible to cook from her books alone and have everything you could ever need. Right now I can't testify to the quality because the only thing I've made of hers so far is the cupcakes I talked about yesterday. If they were any indication it's going to a good month!
Pinterest: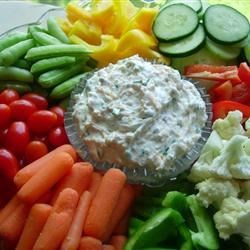 This
Baked Potato Dip from Allrecipes
is everything a dip should be. It's super easy to make, makes enough for a large group but stores well if you make it for a small one, and is super delicious. The only thing I did different from the recipe is that I used about 1/2 teaspoon of toasted onion powder instead of the chopped green onions. It definitely needs the hint of onion though I guess garlic or some kind of spice would work just as well.
For dinner Monday night I tried this
Baked Penne with Chicken and Sundried Tomatoes from The Art of Comfort Baking
. I really liked that it didn't have cream of chicken soup or any other canned ingredients. It wasn't my absolute favorite but it was good, filling and simple to make so it will definitely be making another appearance.