A few months ago I was stocking up on sprinkles at HomeGoods and purchased a multipack of dessert flavored sprinkles. One of those flavors was Creamsicle. While we were waiting in line to check out J said "You should make some creamsicle flavored cupcakes". An embarrassing number of months later this is my first attempt. I added a pastry cream filling but I don't really feel it added anything so I'm leaving it out.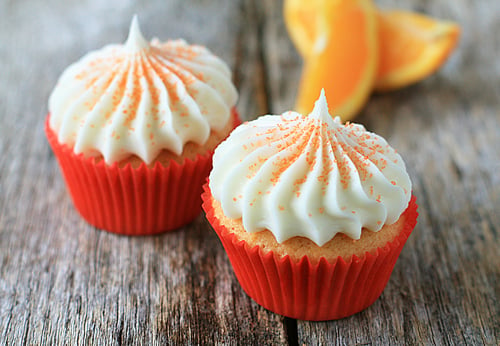 1.
Source: My Baking Addiction blog -
I follow this blog but I'm not sure how much I use it
2.
Ease of Recipe
(1 being cake mix/canned icing - 5 tons of steps and very time consuming): 2.5. This came together easily
3.
Changes Made
: I added a pastry cream filling but it added very little so I'm just pretending that didn't happen.
4.
Problems:
None and it smelled amazing with all the orange zest
5.
Overall Impression:
The flavor of this cake is amazing and its probably the best cream cheese frosting I've ever made. It's light and tangy without tasting like licking a block of cream cheese. The cake texture is a bit dry so I might add a little more moisture next time because the flavor combination is incredible.
6.
Quantity: 12
7.
Make Again?
: Probably but I would look at how to make the cake lighter or more moist in the future.