Eleanor is home from school for her university's fall break. We decided to spend the time that the Tornado was in school thrift store shopping. We got 3 thrift stores and a consignment store in before pickup time. She got 4 or 5 sweaters and a jacket. I found an Auburn jersey for the Tornado and a sweater and the weirdest ever t-shirt for Emma. As for myself I more than made up for striking out on Saturday and cleaned up. The best find was a shirt I almost bought full priced at Anthropologie. I'm glad I didn't buy it because I ended up getting a 90% discount! So after all that shopping I came home and made these Triple Threat Cupcakes. These are white cake cupcakes with an Oreo at the bottom, a cookie dough filling and brownies mixed into a chocolate buttercream.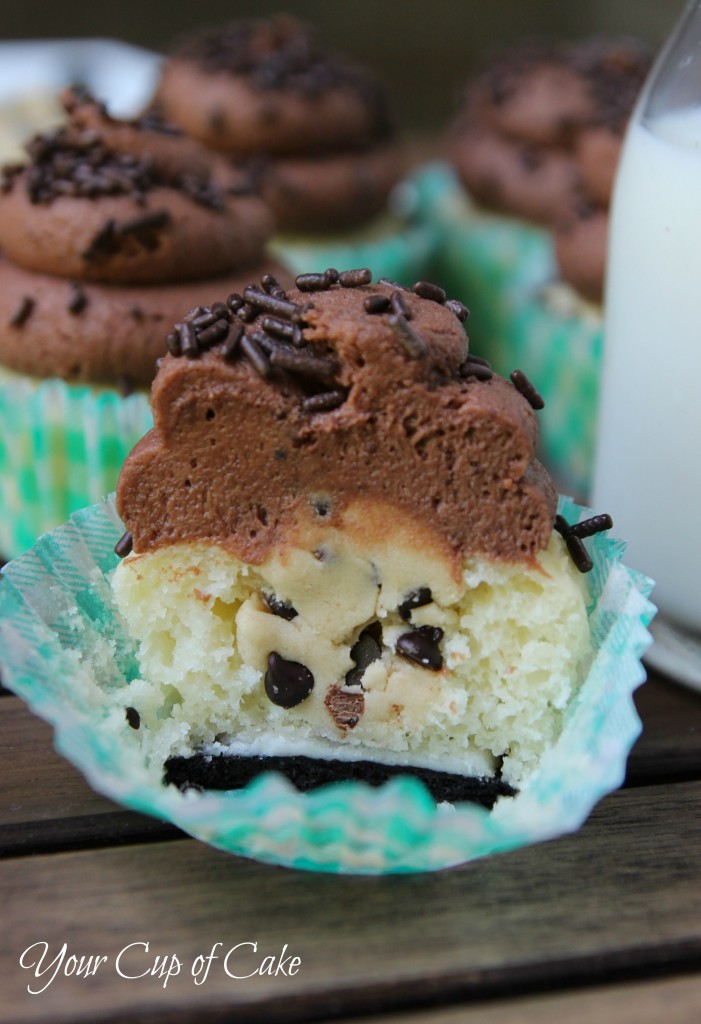 1.
Source: Your Cup of Cake -
This was a repin and not from a blog I regularly follow. However, after trying these cupcakes I added this blog to my Feedly account.
2.
Ease of Recipe
(1 being cake mix/canned icing - 5 tons of steps and very time consuming): 4. Not hard but a lot of steps.
3.
Changes Made
: None
4.
Problems:
None
5.
Overall Impression:
Oh my these are amazing. At dinner last night I mentioned that I was making Triple Threat Cupcakes and without even knowing what they were Emma was excited. She said that anything that had threat in the title was always good and she was very right. Luckily I had about a 1/4th of pan of brownies sitting around so I didn't have to make these on top of the cake, filling and frosting. The cake is delicious and has a lovely texture. This is probably the best recipe for edible cookie dough I've made yet. And the frosting...oh the frosting. It's buttery chocoalatey heaven. I'm not sure how much the brownies really add to the frosting so next time I might leave them out.
6.
Quantity: 20
7.
Make Again?
: Yes. I think Emma would mutiny if I didn't.