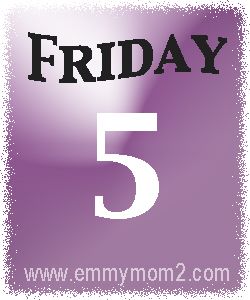 This is a fun meme hosted by
Emmy Mom
. 5 facts and 5 pictures from your week. This week we went on vacation and not just any vacation a spontaneous vacation. Like all last week I didn't think we were doing anything and then on Thursday I said lets go to my grandparents and I packed up the car and Emma, Paul, the Tornado and myself headed down to south Mississippi. I'm not spontaneous at all. I have a spreadsheet for just about everything so this was huge for me! Anyway - my 5 facts from the week!
1. Traveling with a 4 year old is not particularly relaxing especially when you're the only adult. I've felt like I needed a nap since we got home.
2. Emma went on a date yesterday with a guy she met at work. He seemed very nice and polite and even opened the car door for her but I was a nervous wreck most of the day. This is the first date she's been on with someone I didn't know. At some point I supposed you have to trust your kid's instincts but it's challenging.
3. We all had a great time in Mississippi. My grandparents live on some land and we spent the week tearing around on 4 wheelers and motorized scooters. Paul and Emma spent a lot of time at a nearby river and the Tornado and I played games and chalk and ran around with the dogs.
4. I'm loving Dancing With the Stars this season. It's total indulgence and just fun to watch. I love Erin Andrews since I watched her compete the very first season I watched and she's great as a co-host. Plus she can actually do an interview which is a nice change from Brooke Burke whatever who just spent a lot of time smiling awkwardly.
5. The Tornado is having seasonal allergy issues and is driving me insane. Every time he sneezes he goes completely to pieces especially in any got on his shirt or pants. I'm glad that zyrtec makes an allergy medicine for his age group or I'm not sure what I'd do.
Crossing the Alabama/Mississippi State Line.
The Tornado running - that's pretty much what he did the entire time we were there.
This is Smudge. Someone dumped her when we were there last spring break and Emma and I managed to get her out of the garage. She's been living happily inside ever since and is actually a pretty good cat which is high praise.
This is the biggest dog I've ever seen trying to help the Tornado with chalk. He's another animal someone dumped when he was a puppy who managed to land in the right place. We think he's a mastiff/St. Bernard/bloodhound mix. He's huge and just about the sweetest dog I've ever seen.
This is how we spent yesterday - in pajamas and not doing much of anything! It was nice.