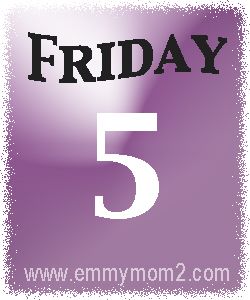 I'm linking up with
EmmyMom
and
Casey from The Starnes Family
for the Friday 5! This is 5 thoughts and 5 pictures from the week. This was a fun week!
1. We had the Tornado's cardiologist appointment yesterday. His pediatrician had found an innocent murmur when he was around 15 months old. It's normally not a big deal but since J and I both have family history of heart defects we wanted to have it thoroughly checked out before he started playing any kind of sports. He got a completely clean bill of health which wasn't surprising giving his activity level but it is nice to know for sure.
2. We got our new mattress delivered Wednesday! Our old one was beyond awful. It's been absolutely heavenly to sleep on a level surface. The old one slanted so bad I got motion sickness if I laid wrong.
3. I"m not loving The Following this season. We watched it last season and loved it for the most part but this season just doesn't have the same intensity or the ability to completely draw me in. This may be for the best because after last season I've never been able to look at Poe the same way and I was seriously considering the need to be armed at all times.
4. I am, however, loving finally joining this decade with a smartphone. I got my iPhone 5s this weekend and am absolutely loving it. My 2 favorite apps so far are Instagram and Cartwheel. Also, the camera is fantastic and it's so much easier to move the pictures around. Plus I'm taking a lot more pictures because I always have it with me.
5. It has just occurred to me that spring break is at the end of the month. No idea what we're going to do. I know lots of people go to the beach but March is way too cold for me plus we go in June. Thinking maybe a day trip to Birmingham or Nashville? Or we could head to south Mississippi to stay with my grandparents for a few days. Decisions, decisions.
Paul decided he wanted to try to swallow a raw egg for reasons we've yet to understand. This was his expression after it went down.


At the park with some friends yesterday. He had such a good time I think we're going to have to add this to our regular routine when it gets a little warmer.


The creepy owl tote bag a friend picked up for me at a thrift store. I'm threatening to keep it to use as a travel bag and make whichever kid misbehaves the worst on a trip carry it in public.


I collect this crystal pattern and was thrilled when I found this set of 6 tumblers on a great sale at an antique store.


Emma and Paul before a band concert the other night. She's actually older but is becoming much shorter much to her dislike. This in one of the last pictures of the 2 of them in concert dress because this is Emma's last year in band.